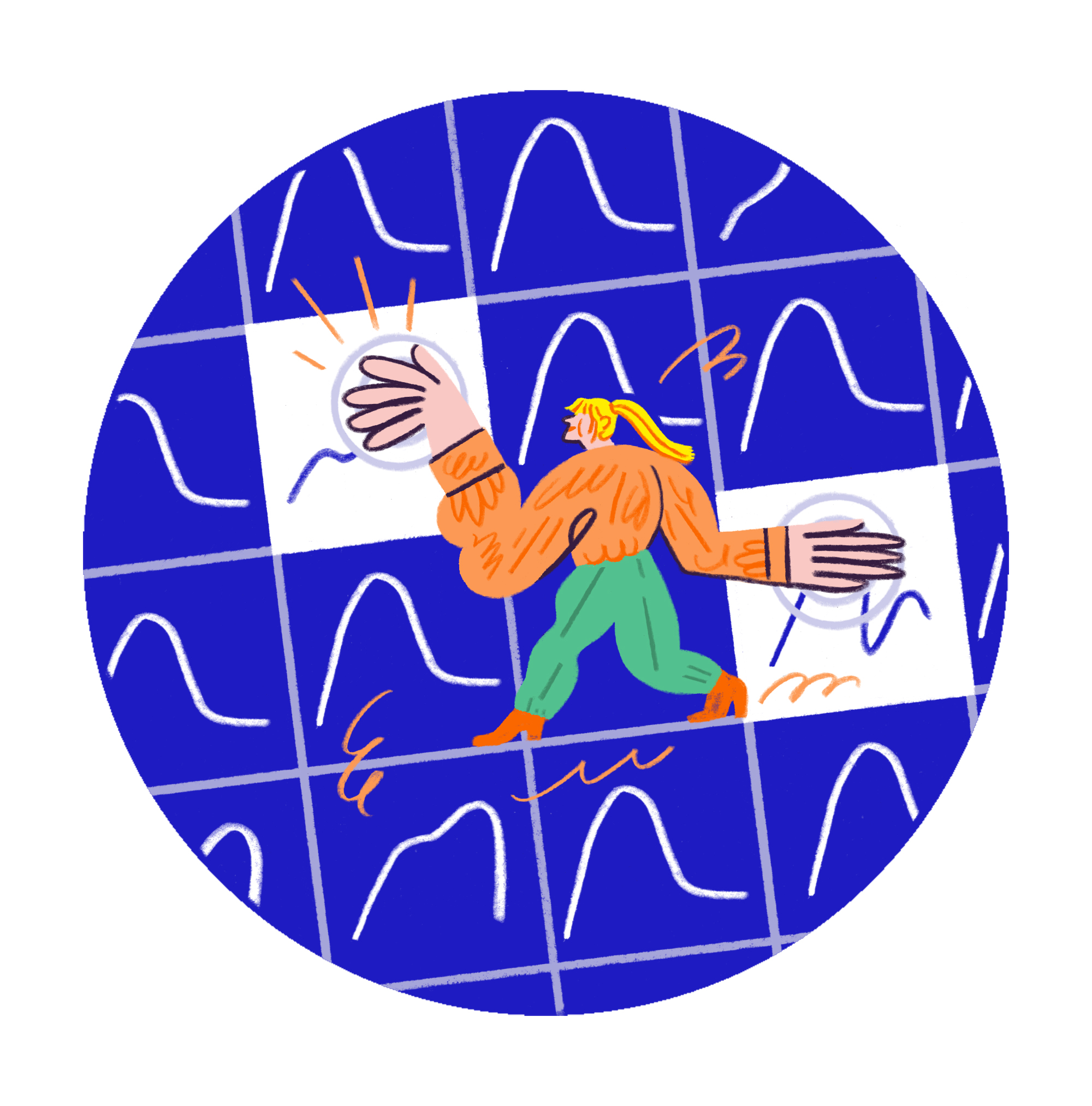 Published


Written by

A new app that can change the pace of scientific discovery
Mariëlle van Kooten, PhD candidate at ETH Zurich, convinced the Falling Walls Lab Jury in Berlin with her confidence on stage and witty storytelling, and has since used the momentum of that experience to shift into the next gears developing her app SciSwipe, which she coined the "Tinder of Science."
What does SciSwipe do for science what Tinder does for singles?
Where a scientist might see sexy numbers, a lot of people would not know what they are even looking at. We write software which transforms complex data – DNA sequences for instance – into visual data that is interpretable by virtually anyone. By downloading the app and swiping the images, the crowd helps to label this data! For instance, if you click those traffic lights on the web, so-called reCAPTCHA prompts, what you are actually doing is, you label images for Google. Google can then use that labelled data to train whatever neural network they want to train – one for self-driving vehicles for instance. This is what SciSwipe does for scientific data.
Why does the algorithm need labels?
Computers are extremely powerful when it comes to mining data, but a computer needs instructions. You know the "Not a Hot Dog" joke from the TV series Silicon Valley? The algorithm only recognises what a hot dog is and what isn't, but it could not tell a pizza apart from a cat. Coming back to my point: we need labelled data to tell the computer what to look for. In other words: labelling traffic lights, sidewalks, and finally scientific data via SciSwipe, enables scientists to train computer algorithms. Once you have trained an algorithm, once it's set up to do a job for you, it helps you to mine very vast amounts of data that you would never be able to analyse without a computer.
"What gave me confidence was that I knew my idea was solid enough to present to people."
When did you discover that SciSwipe was exactly what the science community needed?
Let's take mutations that occur in genomes for example. There are crazy amounts of mutations in anyone's genome, which can lead to all sorts of diseases like cancer. Which is why it is crucial that we get a grip on what those mutations and their various combinations can do. At one point during my research I was wondering how I could dive into certain features of the genome data I was working with. Bear in mind, many of those features are very difficult to explore. There has simply not been a method to label the complex, large scale data. I realized that there are large amounts of data publicly available that are only used to a small extent for the same reasons. Thanks to the development of computational power over the years, anyone can now have access to technology to train algorithms. Thinking about how to bridge that gap between the data and the technology led to SciSwipe.
Tell me about your experience pitching SciSwipe at the Falling Walls Lab in Berlin.
I was blown away by the quality of the ideas that were presented on stage. Of course, I felt nervous! What gave me confidence was, that I knew my idea was solid enough to present to people. I came there to convince people of the idea that I believe in, so I ought to have fun!
How did you develop your current storytelling?
The winners at Falling Walls Lab Switzerland won a training with a pitch coach. For me, this meant that the person in question told me my idea was not clear. This was not an easy pill to swallow at first, but it was incredibly useful. As scientists, we can be very enthusiastic about our ideas, however, if somebody tells you people will not understand what you are talking about, consider that advice. I tried many different ways to bring across our story to many different people. I used to include this one very scientific slide which my co-founders absolutely hated, while I thought it was incredibly interesting! The first time I presented it – I thought I had condensed the information very well – the audience did not respond at all. The second time around, I asked if they wanted to see my super interesting slide about the outcome of the algorithm. Again, nobody responded! Only the third time I did not even mention it anymore. Even now that we are setting up our business, we still do not have a story that is set in stone, because we always seek to improve and refine it.
Did you ever have doubts, especially being a woman in a male-dominated research field?
My position has always been that, if others can do it, so can I. The world doesn't always work that way, however, which is why it is all the more important for us women to help each other. That being said, I am involved in ETH's peer mentoring programme for women. I have always worked in an all-male lab during my PhD, until at some point, I had a female intern. Working together and supervising was such a great experience and inspiration. On another note, I can say that as a woman with two male co-founders, I really learn from their social skills! It has been pointed out to me that it seems as though women always compete. It should not be this way! Men congratulate each other for their successes all the time, so should women.
What can they learn from you?
I am a perfectionist! Sometimes things do need to be perfect and when it is not good enough, we need to push harder. I like to jump into the unknown! Do not let yourself believe that you cannot do something. Even if it seems unlikely, there can always be exceptions and you can be the exception.
"That is the only way you can work in a startup – you have to trust each other and use each person's skills as best as you can."
How do you work together as a team?
We have clearly defined our fields of interest and fields of strengths for each team member. Anton is a data scientist and responsible for research and development, as well as pipeline engineering. Ryan has a consultancy background and a passion for data security, which is essential for working with large-scale data in life sciences. Each of us occupies a role according to their expertise. That is the only way you can work in a startup – you have to trust each other and use each person's skills as best as you can. I am currently the CEO, which is why I take the day-to-day lead regarding our decision making.
Can you let us in on the current developments at SciSwipe?
With respect to funding, being part of the Falling Walls Lab was invaluable, because we made some important connections, which led to eventually being accepted into a Catalyst Grant with the company Digital Science. We realised we need to prioritise our tech, which is our strength. That being said, we hired a temporary employee who helps us to push our tech forward more quickly – more hands are definitely welcome! We are lucky to be part of the Innosuisse coaching programme which guides us into the right direction and helps identify gaps with us. I think we are doing well, although as a young company, we really miss the networking at conferences in times of social distancing. Online makes it harder to small talk. I really hope that this gap in networking is not going to be too much of a hurdle later •
Mariëlle's tip
"If other people can do it, so can you! I was always keen on the idea that anybody could do anything and there is absolutely no reason to believe otherwise."
This might also interest you