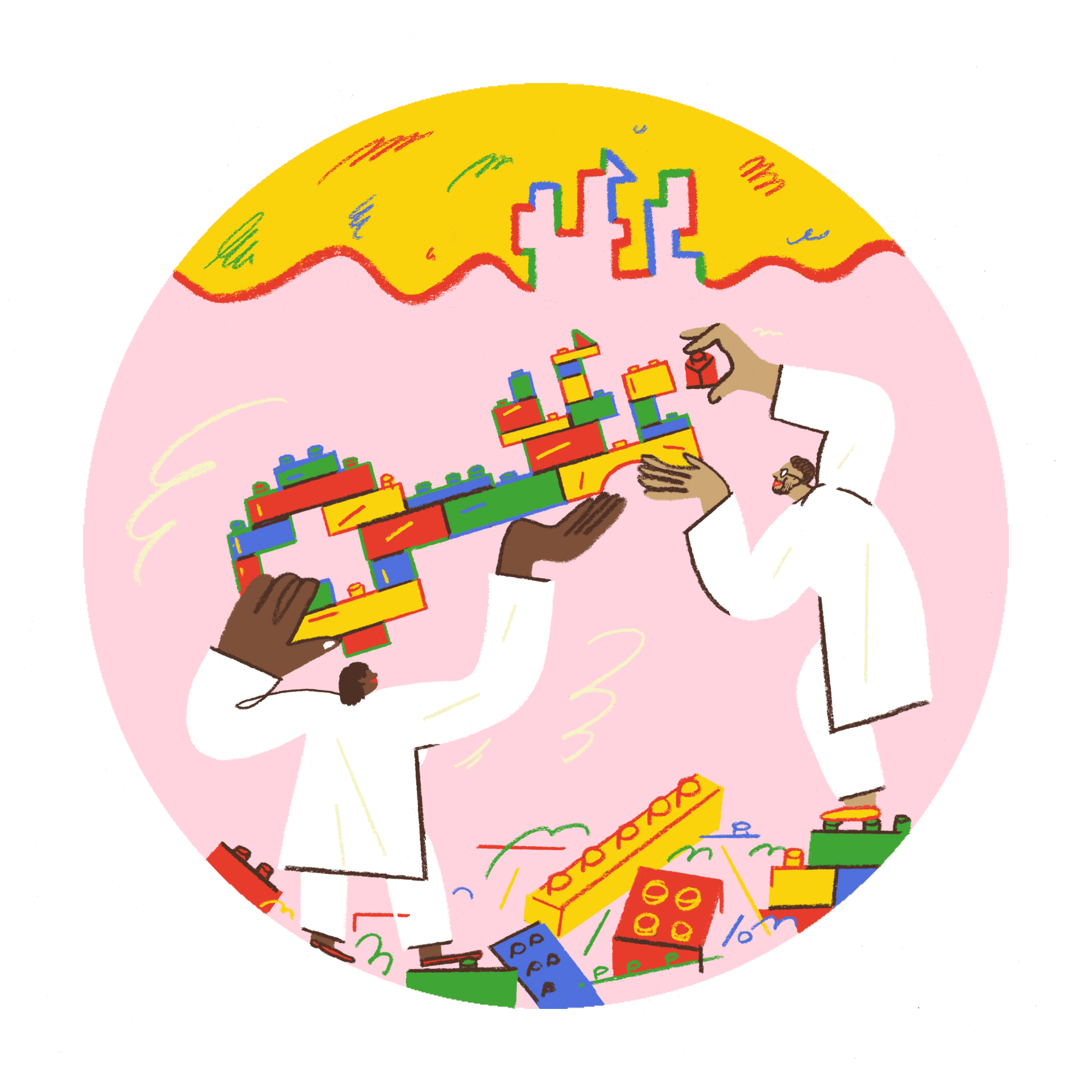 Addressing the Undruggable
Published


Written by

How the startup PROSION is creating novel drugs from innovative chemical "LEGO bricks"
Life science startup PROSION has found an innovative way to form potential drugs against a variety of hard-to-treat diseases. Together with his team, medicinal chemist and Young Entrepreneurs in Science alumnus Slim Chiha is leading the way to turn the group's decade-long academic research into a marketable product.
Why are some diseases harder to treat than others?
The way a drug works is, it addresses a disease-related protein in our body. The problem: Roughly 85 % of proteins cannot be addressed by conventional drugs. We call them "undruggable targets". Developing drugs for these kinds of proteins is very tricky, as they do not possess a convenient pocket. Among the undruggable targets is a family of proteins that plays key roles in numerous cellular malfunctions, linked for instance with cancer, Alzheimer's disease, or even cardiovascular diseases.
How can PROSION's building blocks help to treat these diseases?
Our building blocks – we call them "ProMs" – have the unique properties to address this family of undruggable targets. ProMs can be fused together, much like "LEGO" bricks, into potential drugs. For our proof of concept, we could show that a small molecule drug containing two ProMs caused a remarkable suppression of cancer cell invasion and overall tumor growth.
How far is PROSION with the development of a marketable drug?
It can take more than ten years for a drug to be released onto the market. We are not at that point with our research yet. Having shown very promising efficacy and toxicity results in first in vivo tests on breast and pancreatic cancer mice, there is still a lot of work to be done and we are currently aiming for a first-in-human study in two to three years. It looks promising, but with every drug discovery project, tomorrow is a different day!
How did the idea emerge that the research could be a product?
By the end of 2018, a leading pharmaceutical company approached me during a conference about the potential of our building blocks. Then it just clicked, and I realized that this could be an idea to follow up on. I am very thankful that I had such a great PhD supervisor, Prof. Dr. H.- G. Schmalz, who is also one of our cofounders. He has been very supportive, which fuelled me to pursue my entrepreneurial endeavours.
One of which was the Young Entrepreneurs in Science workshop!
Having a great idea is one thing, but as an entrepreneur, you have to be able to capture people with your vision and personality! The workshop sharpened my self-reflection skills and taught me to express scientific concepts more easily. A practical lesson I took away was learning how to use the business model canvas. It enables us to show what we can bring to the table and what our value is when we talk to potential corporate partners. It changed the way I present my business! Recently, I had the chance to switch sides and act as a role model in the YES workshop, where I shared my insights and gladly answered all the interesting questions the participants had for me.
At the workshop you were able to connect with Valentine Gesché, one of our role models …
It is so important to be connected to other entrepreneurs! After all, it can get a little lonely when you focus on your own project all the time. We are at similar stages with our startups now, so it is always helpful to stay in touch, especially in difficult times such as the COVID-19 pandemic. Besides, I am planning to start a WhatsApp group together with other startup founders that I became friends with in order to build a good and supporting network of young entrepreneurs in science – to help each other, to introduce each other to our respective networks, and to give and receive feedback.
"The zeitgeist in the pharmaceutical industry is shifting towards an interest in external innovation. They rely on us small players."
You are no stranger to the stage and have won a few pitch competitions. What is essential to a good pitch?
We are lucky because the science behind our project is something that a lot of people can relate to. Cancer, Alzheimer's, and heart disease affect many people. This helps to form a connection with the audience. Pitching is something that every scientist can and must learn! We are used to giving very long talks and love going into detail, but a pitch has to be very short and on point. While figures and results are of course very important, it is also crucial to focus on storytelling as well as your entrepreneurial drive. Oh, and never forget your call to action!
Why did you choose to go the unpredictable route of an entrepreneur while you could innovate at a company with great career perspectives?
Taking the corporate route can be a great option with a PhD in chemistry, which is also what I had in mind before starting PROSION. Honestly though, it would have been too difficult for me to walk away from this great idea! Besides, I can still go a similar route through PROSION, by partnering on scientific projects with these big companies. The zeitgeist in the pharmaceutical industry is shifting towards an interest in external innovation. They rely on us small players and the pioneer work we are doing to collaborate and innovate with us.
What keeps you motivated on a daily basis?
It always fascinated me to be in the lab and hold a small flask with a chemical substance, thinking that this could have a big impact and change somebody's life for the better. Seeing how this academic collaboration evolved over the years to get where we are today is highly fulfilling for the entire team. Our goal to have a ProM-based drug on the market one day is something that pushes us to continue our work •
Slim's tip
"As an entrepreneur, you have to be able to capture people with your vision and personality."
This might also interest you